Field mobility – the ability to provide data access and collection capabilities to users outside of a traditional office setting – is a key capability of the ArcGIS Platform. The key component supporting this ability is the platform itself, in the form of either ArcGIS Online or ArcGIS Enterprise. Using mobile applications, users have access to maps and data that have been shared with them through the platform. In this article we're going to look at two applications that are included in the Esri platform that support data collection – Collector for ArcGIS and Survey123 for ArcGIS.
Collector for ArcGIS
Collector for ArcGIS is Esri's latest field data collection application, replacing ArcPad and ArcGIS for Windows Mobile as the go-to data collection solution on the ArcGIS Platform. Collector gives users a map-centric data collection experience, providing users with the ability to view and edit features, related records, and attachments for features that are exposed in web maps that have been configured in ArcGIS Online or ArcGIS Enterprise.
Collector also includes many advanced features that are important to data collection professionals, such as the ability to collect data offline (without an active internet connection), compatibility with high-accuracy GNSS receivers, and rich data collection forms that are based on the pop-up configured in the web map. Collector also keeps getting better, with the latest release for iOS now supporting the collection of offset locations using supported Eos and Lasertech rangefinders.
Survey123 for ArcGIS
A second application for data collection, Survey123 for ArcGIS, takes the opposite approach of Collector and provides users with a form-centric data collection experience. For this application data collection forms can be created in the Survey123 website or using the Survey123 Connect desktop application. Survey123 forms can contain many advanced features, including conditional questions, calculations, and repeats, along with the ability to take photos and parse information from scanned barcodes.
Another component of the Survey123 'ecosystem' is the Survey123 website which includes additional functionality, including Feature Reports, analytics and graphing capabilities. Feature reports provide users with the ability to create high-quality reports from submitted surveys using templates that can be created and modified using Microsoft Word. Built-in analytic and graphing capabilities are also included, which allow users to quickly gain valuable insights from collected data as soon as it's sent back to the server. As an added bonus, the Survey123 website can also be used with deployments of ArcGIS Enterprise, providing the same capabilities and benefits to users accessing surveys published in on-premise deployments.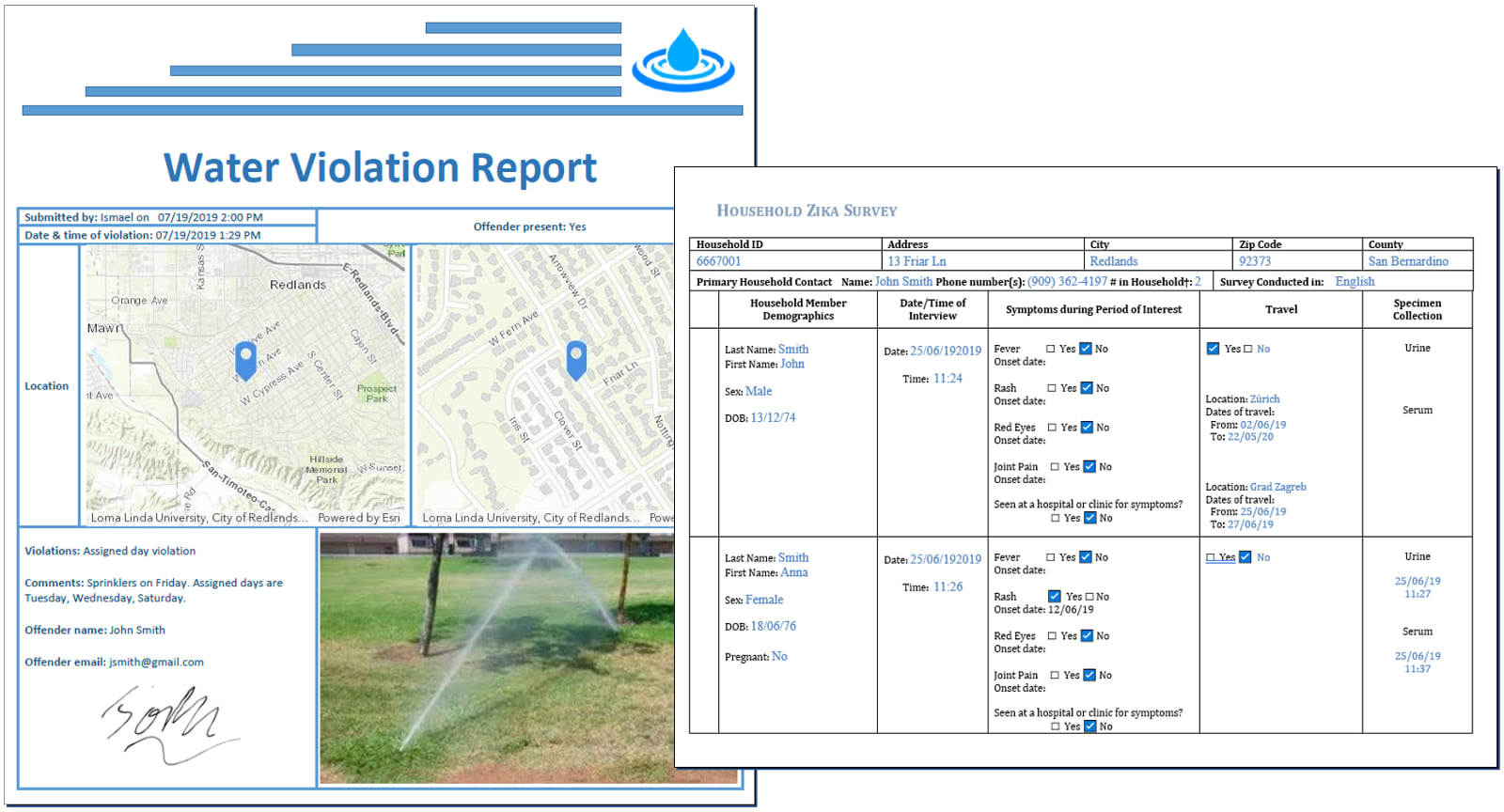 Cornerstone of a Successful GIS
Field-collected data is a cornerstone of any successful GIS. Accurate, up-to-date information is even more important as your GIS system transitions from a system of record to a system of engagement, supporting additional users as consumers of the information.
With Collector and Survey123, field-collected data can be directly integrated into your GIS system in near real-time through the built in synchronization capabilities of the mobile applications and the sharing model built into the ArcGIS Platform. The flexibility of these applications ensures that many workflows – from the simple to the complex – will be supported, and additional improvements are frequently made that continue to enhance the capabilities of each application.
Next Steps
Want to implement Collector or Survey123? Not sure where to start? Reach out to our team of Solution Engineers at connect@geo-jobe.com to learn more and discuss solutions!
Looking for more articles?