The Esri User Conference (UC) is an annual event held in July in San Diego, California. This is an opportunity to stay up to date on new technology, learn what's next, and discover best practices. Whether it is your first time to UC or your first time in a while, these tips will help make your trip a success.
Review the schedule.
The full UC schedule is out and available here. With hundreds of sessions over five days, it can be easy to miss a session you want to see. Reviewing the schedule and planning ahead will help you get to all the sessions you want. The Esri Events app is a great way to keep track of your schedule and allows you to give feedback on sessions after attending them.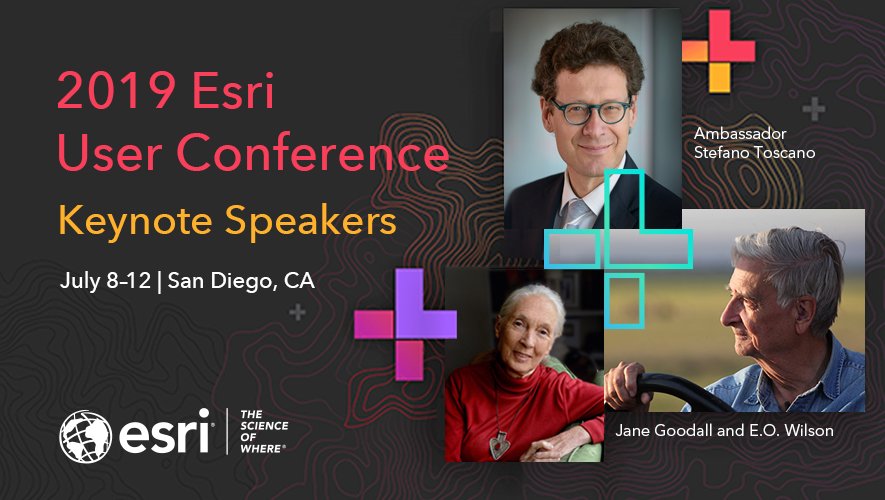 Don't miss the plenary.
The plenary is a can't miss event at the UC. It takes place on Monday, July 8th from 8:30am-4:30pm in three parts, with breaks and lunch in between each part. This is your opportunity to hear Jack and Esri Staff talk about what to expect next from Esri. Joining them are Jane Goodall, E.O. Wilson, and Ambassador Stefano Toscano.
Want to watch the plenary from home? Keep an eye on Esri's social media and their homepage for links to watch the plenary live.
Check out the preconference seminars.
These sessions happen July 6-7th, before the UC starts. If you are flying in early, these sessions are a great way to get hands on training from Esri's experts. You can learn about geospatial deep learning, field operations, python scripting, and so much more. Check out the offerings here and register soon; they may sell out! These are an additional cost, and some are BYOM (bring your own machine).
Fun at the UC!
Esri has several opportunities for fun outside of learning about GIS. Thursday night there is a party held off-site with food, entertainment, museums, and other activities. There are also events for kids to attend; make sure to check out the kids fair and family night. You can find more information about these events here. You can also check out the health and fitness events being offered here.
Come see us at booth 831!
Come by booth 831 to see the team and discuss solutions for your ArcGIS organization.
The GEO Jobe team is looking forward to talking with you about our new application, Clean My Org. This application will help keep your ArcGIS Enterprise or ArcGIS Online organization free of clutter. Additionally, we'll be there to answer all your questions about Admin Tools for ArcGIS, which will help your ArcGIS Enterprise or ArcGIS Online administrators with daily workflows, in addition to time management.
GEO Jobe will also have their UAV division at the UC. They are ready to schedule a flight to give your team an accurate, high resolution digital mapping solutions such as orthophotography, digital terrain models, vegetation health mapping, and contours.
Additionally, come by and see GEO Jobe to discuss their custom software development and managed services. Need something specific built for your ArcGIS Online or ArcGIS Enterprise, but don't have the resources to develop it or need your ArcGIS Enterprise hosted in the cloud? GEO Jobe has you covered.
Read more: