The Esri Developer Summit (DevSummit) is an annual event held in early March in Palm Springs, California. It is an opportunity to take your GIS to the next level with advanced mapping technology and cutting-edge apps. A little sunshine is always a nice bonus too!
Whether it is your first time to DevSummit or your first time in a while, it can be overwhelming to choose between all the sessions while you're there. Below are some sessions we recommend checking out based on the technology you're interested in learning more about.
Not to Miss Sessions
The DevSummit Plenary is the session that kicks off the conference. Jack Dangermond and Esri team members will walk through the latest and greatest of Esri technology, showcase case studies, and give insight on what's next. The plenary takes place on Tuesday, March 10th from 8:30am-12pm. If you aren't attending in person but want to watch the plenary, sign-up here to watch remote.
The DevSummit Keynote this year is David Chappell, he works globally to help people understand, use, and make better decisions about new technology. Stop by on Wednesday, March 11th from 8:30am-10am to learn his insights on the geospatial world.
The DevSummit Party and Dodgeball Tournement! The party is a chance to mingle with other attendees, grab a bite to eat, enjoy the chosen entertainment for the year and watch (or participate) in the dodgeball tournament .Sign-up for the tournament at the main desk, this is where you will need to grab your entry bracelet for the party as well. Get your team together and sign up early as teams fill up quick!
The Road Ahead
Want to see future features for ArcGIS Pro or Enterprise? Have questions on feature implementation? These sessions provide insight into what plans Esri has for a variety of products.
ArcGIS Pro – Tuesday, March 10, 5:30-6:30pm in Oasis 3-4
ArcGIS Mobile Apps – Thursday, March 12, 1-2pm in Primrose A
ArcGIS API for JavaScript – Thursday, March 12, 2:30-3:30pm in Primrose C-D
ArcGIS Online – Thursday, March 12, 4-5pm in Primrose A
ArcGIS Enterprise – Thursday, March 12, 5:30-6:30pm in Primrose A
ArcGIS Runtime – Thursday, March 12, 5:30-6:30pm in Catalina/Madera
Real-Time & Big Data GIS – Friday, March 13, 10-11am in Primrose B
ArcGIS Pro
Diagnosing Issues with Performance and Responsiveness – Tuesday, March 10, 4-5pm in Mesquite G-H
Understanding Feature Services, a Guide for Developers – Wednesday, March 11, 10:30-11:30am in Pasadena/Sierra.Ventura
ArcGIS Pro SDK for .NET: Advanced Editing with Focus on UI Customization – Wednesday, March 11, 5:30-6:30pm in Mesquite G-H
ArcGIS Pro SDK for .NET: Real-time Analysis and Visualization Using ArcGIS Pro Real-time API – Thursday, March 12, 4-5pm in Mojave Learning Center
Web Apps
ArcGIS API for JavaScript: A Holistic Approach to Building 3D Web Apps – Tuesday, March 10, 5:30-6:30 in Primrose B
Web AppBuilder for ArcGIS: Customizing and Extending – Wednesday, March 11, 5:30-6:30 in Mojave Learning Center
Accessible Web Mapping Apps: ARIA, WCAG and 508 Compliance – Thursday, March 12th, 9-10am in Primrose C-D
ArcGIS Experience Builder: Getting Started with Creating Web Solutions – Friday, March 13th, 1-2pm in Primrose B
ArcGIS Online
ArcGIS Online Administration Automation – Tuesday, March 10, 5:30-6:30pm in Primrose A
Best Practices with Hosted Feature Services – Wednesday, March 11, 10:30-11:30am in Santa Rosa
Data Exploration with Smart Mapping – Thursday, March 12, 5:30-6:30pm in San Jacinto
Web Mapping with Arcade Expressions – Friday, March 13, 8:30-9:30am in Mesquite B
ArcGIS Enterprise
Best Practices for Layers and Services Types – Tuesday, March 10, 4-5pm in Smoketree A-E
Security Best Practices – Wednesday, March 11, 1-2pm, Catalina/Madera
Tuning and Scaling – Thursday, March 12, 10:30-11:30am, Primrose C-D
Advanced Topics in ArcGIS Server Administration – Friday, March 13, 8:30-9:30am in Catalina/Madera
Looking for something else?
The full schedule is available here if you want to see what else DevSummit has to offer.
Heading to EPC?
The Esri Partner Conference is an annual event put on for Esri business partners. This gathering of the Esri partner community is a chance to meet and collaborate with other industry architects, distributors, and Esri staff. Partners have an opportunity to meet key product staff, strategize on solutions, and start planning direction of products and services.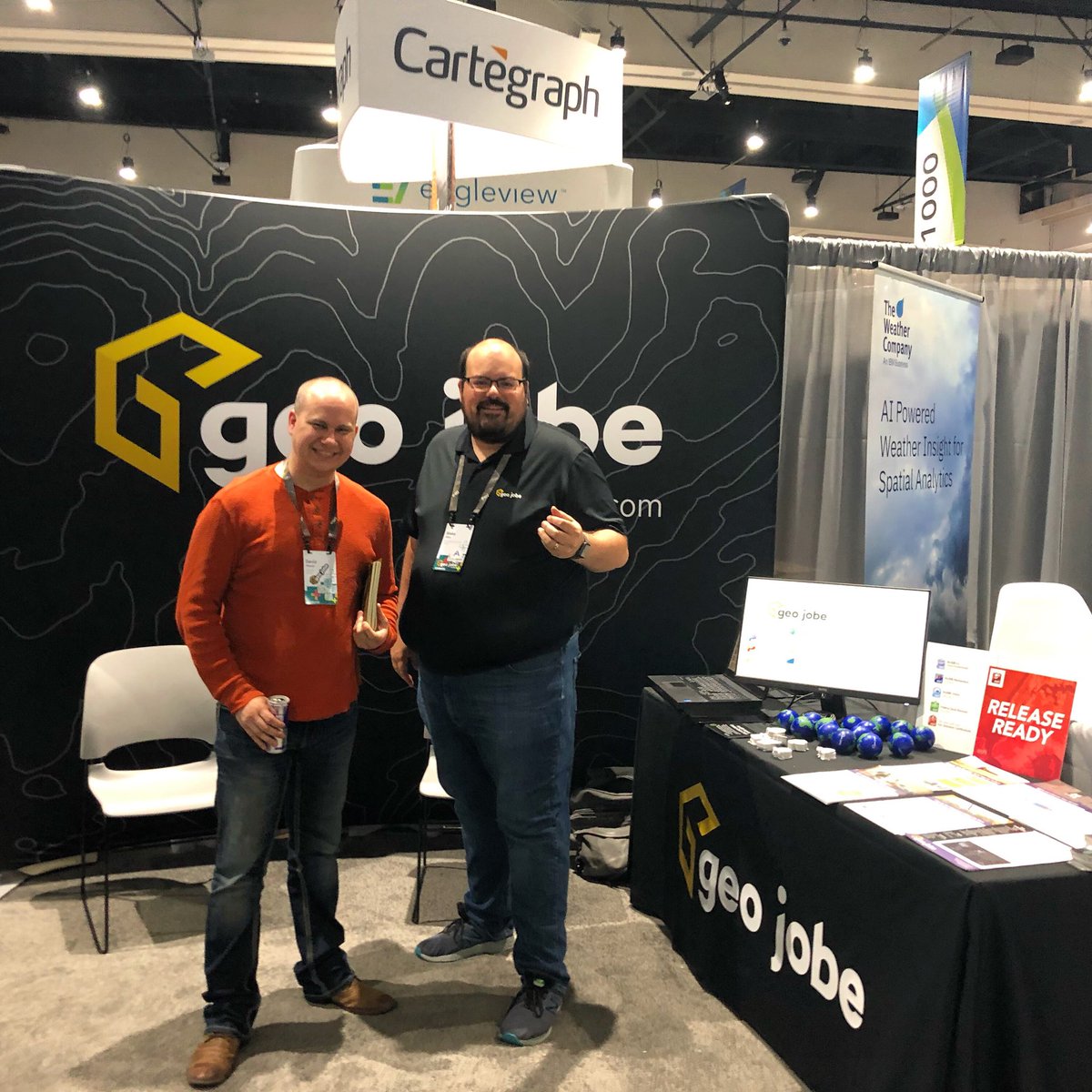 As a silver business partner, EPC is always an important event for GEO Jobe. We'll be co-presenting with Esri on how a culture of customer service can differentiate your brand on Monday, March 9th at 9:30 AM in Mesquite B. We'll also have a booth during the Expo and Welcome social, see us to learn about our new product that we have in the works! Look for us in the exhibition hall at booth 113!